Sh.ip
With the growing eCommerce market, more people are sending and receiving packages every day. Sh.ip provides everyone with a more straightforward and contemporary system to keep up with the ever increasing market.
Intended to work as an API, Sh.ip can stand alone as a site or work to adapt to any company that wishes to use its technology.
The loading screen provides
customers with a friendly animation to help get the process started.
The entire site is meant to operate by scrolling alone, but it can also be used by clicking on each section. This can help simplify the process by reducing the number actions each user needs to make to fill out the information.
All of the shipping options are visible side by side for simple comparison, with the first section highlighting the cheapest option. It also informs customers of alternative ways to send a package. (i.e., messenger services)
To simplify the process, even more, users can use just their home address and their name to sign in. Users no longer need to remember their username and password or even a tracking number. Added security is enabled through two-factor authentication. Addresses are verified through a drivers license number or identification code on everyone's utility bill.
A map displays the exact location of the package and gives a more precise timeframe as to when the package will arrive. Since shipping companies have their routes scheduled to the minute, this information is already available but is shared only though Sh.ip.
Here, users can update their preferences and access information regarding past shipments. Recipients can also add notes for delivery, including a door code or information on whether or not they will be home.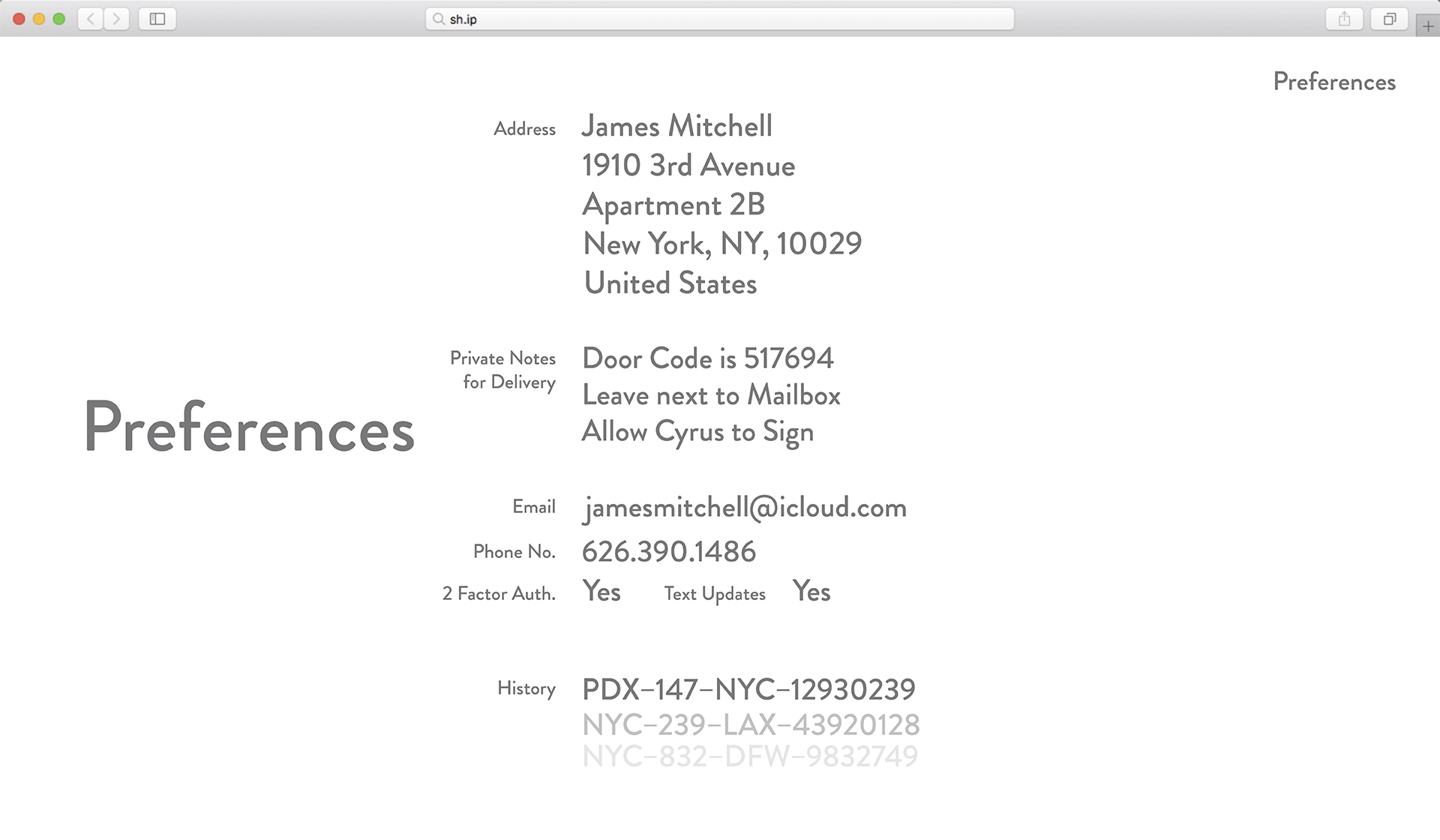 This screen can give more information regarding who was looking at their package information. And users can either restrict or provide more information to other people like senders, distributors, and even a neighbor to grab their package for them.
The Sh.ip app reflects the design language from the website and uses AR kit to measure packages. AR kit is built into every iPhone past the 6s and can accurately measure the exact dimensions of packages eliminating the need for a tape measure or a post office. The lines trace the edges of the boxes to show users where the application is measuring.
Shipping preferences and notes are saved through Sh.ip. This allows shipping companies to better serve their customers by creating profiles that suit individuals' needs. Customers save time by putting their information into the only site where it is automatically distributed whenever they send or receive a package.